Search Engine Optimisation for Doctors and Dentists
"Your losing patients and income – Here's why and how to stop it!"
Article updated – September 2021.
What is Search Engine Optimisation (SEO) for Doctors?
Search Engine Optimisation for doctors is about maximising the number of potential patients that find your practice's services using a search engine such as Google, Bing or Yahoo.
With rising medical practice running costs, increasing competition and the alarming trend of patients shopping around to compare healthcare costs, it's more important than ever to be found first online.
Why is this so important?
Below is an exert of the results of an extensive study done in 2021 from Smart Insights showing the amount of organic traffic businesses receive from Google search results given their positioning on the page:
| Google search results | Average traffic share |
| --- | --- |
| Number 1 position | 34.2% |
| Number 2 position | 17.1% |
| Number 3 position | 11.4% |
| Number 4 position | 8.1% |
| Number 5 position | 7.4% |
| Number 6 position | 5.1% |
What affect does this have on your medical or dental practice?
Here are the results from a Google search for "Doctor St Kilda" – 15th September 2021:
(This example will apply no matter your area of medical expertise or speciality).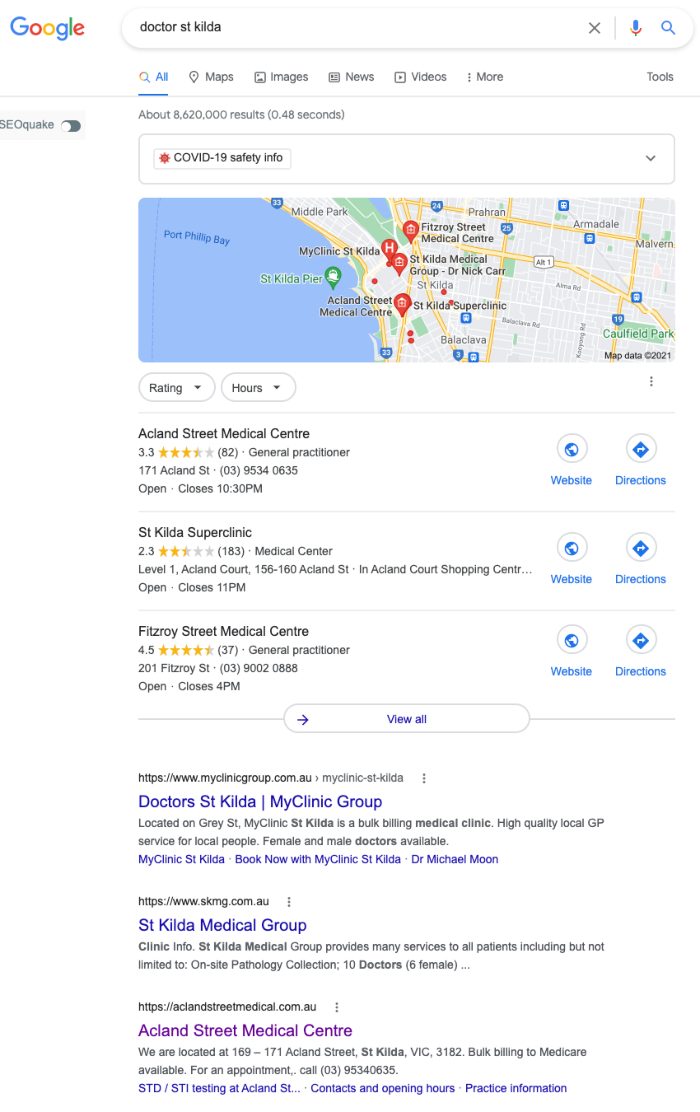 Where your practice is ranked on Google has a profound influence on the number of potential patients that find your medical services.
The more patients finding your medical practice online the better!
Most medical and dental practice websites are missing some key Search Engine Optimisation fundamentals that could make their practice's website jump a few places in the rankings:
More patients = more income, the opportunity to expand or explore new opportunities!
The statistics – Patient research:
84% of potential patients perform a search online to find medical care.
90% of patients will check your website before contacting your clinic.
What are the two items Search Engines use to find your medical practice?
The aim of search engines such as Google, Bing and Yahoo is to show patients the results that are deemed to be the most relevant to their search query. Search Engine Optimisation (SEO) for doctors is the science that combines the following two broad reaching factors:
What search engines look for on your website to give potential patients the most relevant results they are searching for.

The way real people like to read and interact with your website to give them fast and accurate information to help them make a decision.
1. What do search engines (like Google) look for to find your practice?
The way Google and other search engines organise search data results is through an algorithm.
Google must search through millions of pages of information to find the most relevant results to display to patients about their search request.
The algorithm ranks the importance of information based on a how your practice's website presents its content. This includes:
Your website's address (or URL)

Page headline or title

Target keyword the patient has typed in (in this case "Doctor St Kilda")

Mention of keyword (or slight variation) the patient searched for in the first 100 words

Images and how they are named on your website

Videos and social media

Local search factors (your practice's location)

Links to and from your website

How much authority your website has (does it receive a lot of visitors)
Where do most practices go wrong?
Most practices I come across write their website copy themselves.
Website copywriters have specialist skills in Search Engine Optimisation and this working knowledge gives your practice the best chance of being found.
You have already seen the profound difference in traffic that Google can make to your practice in positions one and two alone. Would you rather have 34.2% of visitors or 17.1% of visitors to your practice's website?
2. The way real people like to read and interact with your website.
Just when you thought there were only 250 factors to consider when optimising your website.
You must also consider the human element…. your patients!
How do patients like to find, read, interact and process information on your website to help them make a decision to use your medical or dental practice?
This is about how your website:
Look and feels

Is the colour scheme warm and inviting or cold and corporate?

Design – Is it old and tired or cutting edge?

Is it easy to navigate around?

Does it have the relevant factors that build trust?
Your website reflects the personality of your practice. It must also contain all the content to convince and capture potential patients. In short, patients must feel convinced that you will meet their needs and address all their concerns.
It's also about how people like to digest your website's information:
75% of people skim read your website – Break up your website copy with headlines, bullet points and images

80% of people are more likely to watch a video on your website

90% of people like to read and info-graphs

Do patients easily understand the language you use on your website?
Your practice is about meeting patient needs. Patients decide to use your clinic based on their own algorithm of importance factors including:
Quality

Trust

Experience

Value

Reputation

Price

Service

Recommendation

Ease of access/availability or;

Locality.
If another practice in your area meets a patients needs and is found first in search engine results the chances are very high that the patient will go to your competition.
But there is far more to it than this…
Some practices I come across are almost spoilt by the amount of patients that come to their doors.
Most practices offer a number of different services through allied health professionals. Under one medical practice roof you may find:
Other medical specialists

Pathologists

Physiotherapists

Dietitians

Chiropractors

Massage and acupuncture therapists

Pilates and;

Many more services
It's common for Doctors to refer their patients to their in-house allied health professionals. There are many reasons for this including to maximise appointments and income, assist with the smooth transfer of patient information and trusted, known practitioners.
The truth is medical practices could be driving a lot more potential patients into their practice and allied health professionals.
How?
Practice managers and doctors usually get together to determine the information contained on their website. Not only does website copywriting require specialist skills you also need to consider:
Your practice's strategy and key income streams

Keyword research – What words are commonly used to find your practice?

What are the major factors patients want and look for from your website?

The patient decision making journey – What builds trust?

How do most people read website information?
Most medical and dental practice websites simply do not have enough:
Patient friendly information or;

Search Engine Optimised content – Copy, images, graphs, logos and video
So what steps do you need to take to improve your website?
List your key practice income streams

Look at the content/pages of information you have on your website in relation to the items from your list
Every income stream must have its own page that contains at least 700 words complete with images and headlines. Most pages that rate well in Google have about 1200 to 2000 words per page.
Rating well or highly in search engine results does not happen overnight – Or everyone would have already done it. Search Engine Optimisation needs to work on two levels (1) on-page and (2) off page work. Usually it takes 2 to 3 months to see some results.
Think of it like building your practice – Its not a success overnight, it takes specialist skills and knowledge to deliver improved results.
A website copywriter that specialises in Search Engine Optimisation is a great investment
Where would you like your medical or dental practice to be in search engine results and what it could be worth:
| Google search results | Average traffic share |
| --- | --- |
| Number 1 position | 34.2% |
| Number 2 position | 17.1% |
| Number 3 position | 11.4% |
| Number 4 position | 8.1% |
| Number 5 position | 7.4% |
| Number 6 position | 5.1% |
WEBSITE BEST PRACTICE IMPROVEMENT ADVICE ON YOUR CURRENT WEBSITE