Marketing your medical practice online
How effective is it and what should you consider?
Where and how can you attract the most patients to your medical practice?
The bottom line in your marketing efforts is about finding the best return on investment for your marketing dollar.
The aim of this article is to get you thinking about your current marketing efforts…
So where do you spend your marketing dollar?
It's about what works for your medical practice, what the trends are and measuring what's the most effective marketing medium.
Here is a great infographic I found out of the United States about online marketing and medical practices. In most of the below statistics Australia and the United Kingdom are on par of above the United States on a population and per capita basis.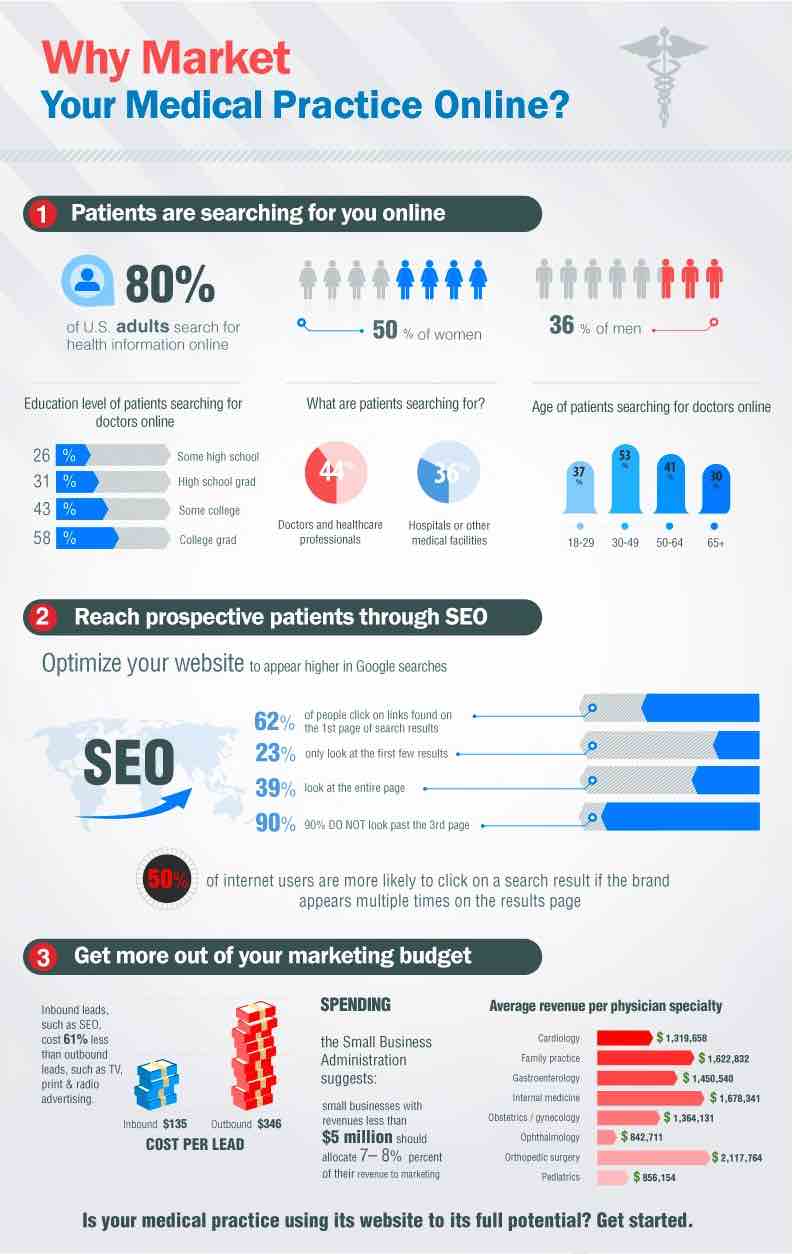 Infographic and source – Medical Web Experts Research 2014
Do you use push or pull advertising?
Push Advertising – Comes from television, radio, billboards, newspapers, magazines and some media items you consume online. In short push items are advertising that is thrust at you everyday on your way to work, home or to pick up the kids. You have no control over push advertising.
We probably see between 300-700 advertising messages per day!
Research – Telsian Technology 2014
Pull advertising – Comes from items that you search out everyday, mostly online via your desktop or mobile devices. You want to search locally for a good place to eat. You type into a search engine "Restaurants Richmond" and you will pull to your online device local restaurants in Richmond.
Of the 300 – 700 messages you see per day…
which ones are you going to take more notice of?
Obviously the ones you search for that are relevant to you….!
Above the line media 
Above the line media (push advertising) also known as traditional media consists of television, radio, newspaper and catalogues (print and press related media). This form of advertising has a very short lifespan. It lasts for a day and at longest a month. It can be quite expensive and is difficult to measure.
Below the line media
Below the line media refers to almost everything digital or online related. This statistic:
Up to 80% of people will check your website before contacting your practice!
So where do you spend your budget?
Your website is the gift that keeps on giving……
Value – It works for you 24 hours a day, 7 days a week
Results – Traffic can easily be measured
Reach – 80% plus of patients are looking for your services online
Cost effective – The money you pour into it is invested wisely due to its long life
Builds relationships and trust
Social – Experience can easily be shared online
Capture and convert – Website visitors into patients
Marketing is all about measurement 
I am not for one minute advising you to spend all your marketing dollars in one area. Commonly patients will look to a number of sources before considering what course they will pursue and with whom.
Today's patients are consuming media differently. From a magazine, newspaper or television ad they will visit your website to find out more….
When was the last time you opened a paper based business directory….they are almost extinct. Online is the new marketing but it hasn't totally taken over.
View Medical Website Solutions full range of services!
Most successful medical practices have 7 ways to capture patients
Each of the 7 patient capture techniques must be treated as their own marketing funnel. Over 70% of these patients will end up on your website…and if your website is not designed to capture them, that is a colossal waste of money.
My next post will be on:
Ensuring your medical website is capturing the maximum number of patients….  
Find out why medical practices choose Medical Website Solutions?